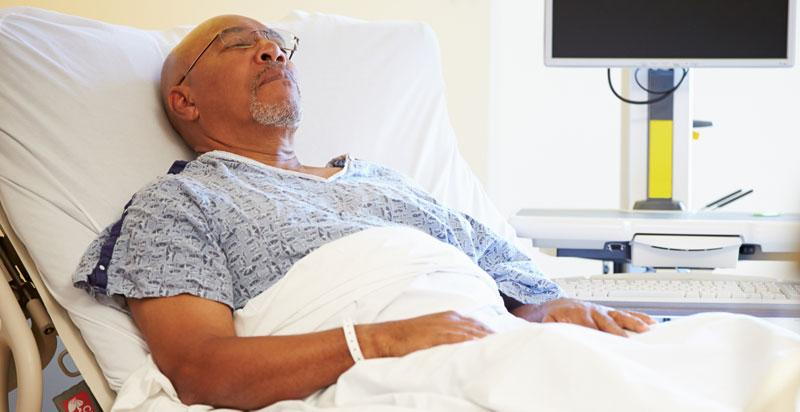 A lawsuit filed in Camden alleges that Virtua Health, Care One LLC and Kessler Institute of Rehabilitation, which then operated Marlton Rehabilitation Hospital, caused or contributed to the death of a spinal surgery patient who developed severe bed sores leading to septic shock. The deterioration of Alfonzer Patrick, as reported in Law 360, is disheartening to read about. The unfortunate patient was transferred from facility to facility, where caregivers failed to take aggressive action to remedy his worsening condition.
Here is a brief timeline:
January 8, 2016 — Mr. Patrick has cervical decompression and fusion surgery at Virtua Memorial Hospital in Mount Holly.
January 15, 2016 — Mr. Patrick is transferred to Marlton Rehabilitation Hospital, where staff members note a pressure ulcer on his buttock at admission.
January 27, 2016 — Pressure ulcer has grown and progressed to his lower spine.
February 6, 2016 — Mr. Patrick is transferred back to Virtua Memorial Hospital, where he is diagnosed with septic shock.
February 9, 2016 — Mr. Patrick is admitted to Care One at Evesham, where multiple pressure wounds to the buttocks and lower spine are noted.
March 8, 2016 — Still at Care One, Mr. Patrick is diagnosed with a severe pressure ulcer to the lower spine.
March 12, 2016 — Mr. Patrick is discharged from Care One.
March 21, 2016 — Mr. Patrick is readmitted to Virtua Memorial, manifesting "confusion, weakness and difficulty in breathing." He has surgery on a necrotic sacral wound.
April 19, 2016 — Mr. Patrick dies.
To be fair, many surgical patients fail to thrive despite receiving the best possible care. We do not know Mr. Patrick's age or his previous state of health. Older and infirm patients are much more susceptible to pressure ulcers because their skin contains less moisture. A heavier patient exerts greater pressure on the skin than a lighter patient. A heavier patient is also harder for staff to move to relieve the pressure on the skin.
That said, pressure ulcers are generally a sign that a patient is being neglected. When Mr. Patrick arrived at Marlton, he already had a pressure sore, needed maximum assistance, and was reportedly incontinent. Incontinence combined with pressure sores in the lower back creates a serious risk of infection. Mr. Patrick required an aggressive treatment plan and close monitoring. Did he get it? Was there a treatment plan for the pressure sores? Was that treatment plan adhered to? The Law 360 article does not provide any comments from the defendants.
This story is a cautionary tale for anyone who has a loved one in institutional care, especially an elder in a nursing facility. Elders who fail to thrive in a nursing home setting require aggressive advocacy to ensure they get proper care. Check your loved one for reddening of the skin, which is a sign of a developing pressure sore, and demand swift attention to remedy the problem.
If you suspect you are the victim of medical malpractice, Seigel Law can help. Take advantage of a free consultation by calling 201-444-4000 or contacting our office online to set up an appointment with an experienced medical malpractice attorney.